With $60 million in investment, Indian agritech business DeHaat surpasses a valuation of $700 million.
DeHaat, a startup that provides farmers in India with a variety of agricultural services, has raised $60 million in a fresh investment round as it seeks to increase its market share and achieve break-even profitability within two years.
According to a person familiar with the situation, Sofina Ventures and Temasek jointly led the Series E funding for the business with offices in Patna and Gurgaon, which it stated was valued between $700 million and $800 million. The fresh round of funding also included participation from previous sponsors RTP Global Partners, Prosus Ventures, and Lightrock India.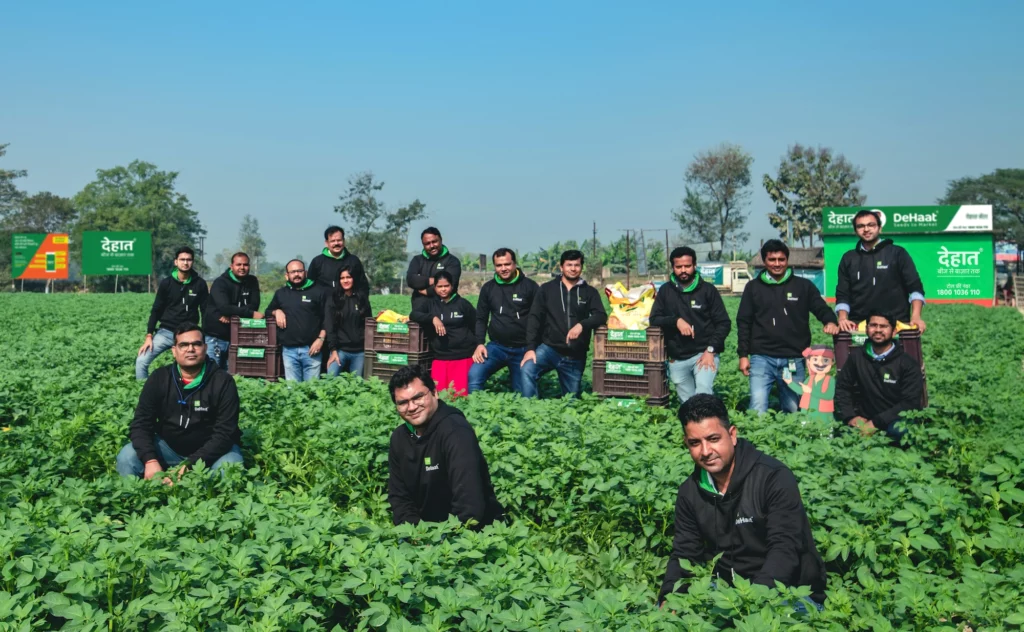 India's $350 billion farming business is hampered by a number of issues that were mostly ignored before upstarts like DeHaat entered the picture. Finding buyers for their produce, securing agricultural inputs, and preserving enough runway are challenges for farmers.
Although some services are provided to farmers by giants like Reliance and Adani Group, their involvement in the agriculture industry is still largely limited. Indian farmers must quickly adopt technology to increase and maintain their yields due to the country's rapidly expanding population and the effects of climate change.
In 11 states, 110,000 villages, and more than 150 zip codes around India, DeHaat employs artificial intelligence to assist 1.5 million farmers in locating raw materials, locating advising and financing services, and selling their harvests.
Over 2,000 agricultural organisations, including input producers, household name brands in the food and consumer goods industry, banks, and insurance companies, have joined the startup. In order to manage a network of last-mile supply chains, the startup collaborates with over 10,000 microentrepreneurs.
Shashank Kumar, co-founder and CEO of DeHaat, told in an interview that the startup will concentrate on expanding its presence across the zip codes where it is already operational in the near future and reaching break-even profitability in 12 months. Over the past two years, DeHaat has aggressively expanded across several important Indian states.
DeHaat will have a runway of up to 40 months thanks to the fresh capital, Kumar predicted, during which the company will turn a profit. "We aren't introducing any more geographies, at least not for the next three to five months." According to him, "We will keep serving more farmers and expanding our network of centres in the states where we are functioning." Currently, DeHaat is absent from the southern Indian states. After about a year, the startup hopes to start expanding to those states, according to Kumar.
Kumar recognised that raising money in the current economic climate isn't simple. As investors become increasingly cautious as a result of a significant turnabout in the global market, funding inflows to local startups have decreased by more than 80%.
Everyone is looking for assets with a clear path to profitability, thus the perspective is different, according to Kumar. DeHaat had a distinct edge in that regard because our unit economics are excellent and our burning desire is to expand internationally. He added that DeHaat still has about two-thirds of the money from the prior $115 million funding round and stated that they raised the round to be prepared for all upcoming opportunities.
In the last three quarters, the startup, whose name translates to "village" in Hindi, has acquired about half a dozen businesses. According to him, there is still room for more M&A, and the company is prepared to move forward once it finds the right partners.
Sofina supports organisations that benefit their communities and the environment in an effort to contribute to the aims of sustainable development. According to Yana Kachurina, Principal at Sofina, "We continue to be impressed by DeHaat's vision and endeavour to empower farmers and local communities, and with this extra funding we want to have an even deeper and larger impact within the existing network as well as new geographies."