Fast X Can't Even Be Saved by Jason Momoa's Incredible New Villain
Octanews
May 18, 2023
173

12 minutes read
Vin Diesel, Michelle Rodriguez, Charlize Theron, and Jason Statham lead the latest Fast and Furious film.
With the release of Fast X, we think it's finally official: the Fast and Furious franchise ended with the death of Paul Walker. Walker's untimely passing gave 2015's Furious 7 a resonance that took the series to a new level, really solidifying the notion that family, not action, is what makes this mega blockbuster car franchise so popular.
In the films that followed, the one-two punch that had been at the heart of every single Fast movie before it was gone. The next iteration, The Fate of the Furious, suffered for it, but at least it tried something new by making franchise hero Dominic Toretto (Vin Diesel) the villain. In 2021, F9 got around it by introducing Dom's brother Jakob (John Cena), who provided a new twist on that back-and-forth, tit-for-tat energy the series was built on. But now, with Fast X, that brotherly comradery and mutual respect are off the table, and so too with them are all the emotions that made the franchise so special. Now it's just the Vin Diesel show, complete with a plot that specifically makes it so Diesel can be on his own for as long as possible. And, as much as we may love Vin Diesel, he's never been the sole ingredient that makes Fast and Furious popular, no matter how hard Fast X tries to make it so.
Jason Momoa goes for it in Fast X, and we love it.
Fast X does have a worthy rival for Dom though, and, surprise surprise, he's the best part of the movie by far. It's Dante, played by Jason Momoa, and Fast X begins with a little retcon flashback into the world of 2011's Fast Five, where we see that the villain of that film, Hernan Reyes (Joaquim de Almeida), had a son named Dante who would have inherited all the wealth of his father—if only Dom and his team hadn't stolen it. And so, we learn that Dante has spent the past decade studying Dom to not only be able to emulate him, but also to always be a few steps ahead of him. Dante is a joyous, hilarious, sociopathic character, mostly because Momoa plays him with a vibrancy and awareness that's worth the price of admission on his own. Literally, Momoa could be nominated for an Oscar for this role and we wouldn't be mad. He's the anti-Dom and anytime he's on screen, all you want is for him not to leave.
Now, if Dante was Dom's friend, that core relationship that drives the Fast franchise would be intact. Because make no mistake, Dante challenges Dom. But Dante is the villain, full stop, and so the movie is still driven, pun intended, by Dom's decisions. And Dom, on his own, with no one to challenge him, just isn't very interesting.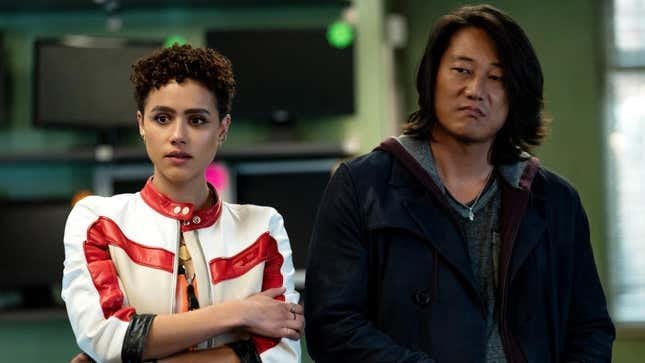 Ramsey and Han find themselves in some very weird scenes.
So where are all the other people who do challenge him? That family from the previous nine films? Well, after an admittedly solid, entertaining first act that has all the elements of a great Fast movie (family barbeque, massive set piece featuring the entire cast in one place, working together), Dante's plan is put into action. To defeat Dom, Dante decides to separate him from all his friends and family and the movie does just that. One story splinters into about six as Letty (Michelle Rodriguez) goes one way; Tej (Ludacris), Roman (Tyrese Gibson), Ramsey (Nathalie Emmanuel), and Han (Sung Kang) go another, Dom is by himself, and later a few other stories following Cypher (Charlize Theron), Jakob, and Tess (franchise newcomer Brie Larson) are added in.
Having all the characters scattered into their own stories makes one thing abundantly clear. It's the same thing which was crystal clear in the Fast and Furious spinoff, Hobbs and Shaw. These characters do not work as well on their own. It's an ensemble piece and if the ensemble isn't an ensemble, what's even the point? It also doesn't help that the script here feels almost painfully uninterested in everyone who isn't a Toretto. Dom's story has a few standout moments, like a mid-movie race scene, as does the one where Jakob is protecting Dom's son Brian (Leo Abelo Perry), thanks in large part to a fantastic rapport between those actors. Beyond that though, all the other tangents are stunted, boring, and loosely linked with lines like "We'll meet Dom at the rendezvous," as we clearly watch Dom have zero interest in actually going toward any rendezvous.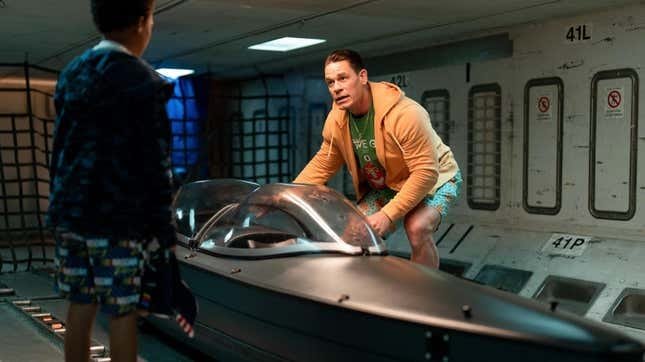 jakob (John Cena) and young Brian (Leo Abelo Perry) are a highlight of the film.
Director Louis Leterrier (Now You See Me, The Incredible Hulk), who was brought onto the production after the departure of Justin Lin, does his best to keep the audience reminded of all of the different storylines. But with so many characters in so many places, we sometimes get like two minutes of them talking, only to cut away for another 20-30 minutes. Often those scenes feature some action to remind you this is a Fast movie, but it's usually just some hand-to-hand combat or lots of gunplay, which all feels generic in a franchise that has been anything but.
Along the way, characters in Fast X constantly make some of the most unexplainable, dumb decisions ever. Now, look. I know this is Fast and the Furious. "Dumb" is the brand. Flying cars, superhero jumps, I'm fine with all of that. But when characters stay in places where they can be easily located, are saved by random characters showing up out of nowhere, or say they're going to do something only to go missing from the rest of the film, a sense of disjointedness and apathy towards the story intensifies. This is most evident in a scene featuring a very well-known celebrity cameo and a brief drug-induced hallucination, neither of which does anything to the movie except slow it down. Then, on top of all of that, at the end you're reminded that "Oh right, this is part one of two," and seemingly every single storyline is left dangling.
After Rome, it's all downhill.
It's not all for naught though. As we said, Momoa brings such incredible charisma and energy to the franchise, you start cheering for him and his outlandish plans to work. Plus, the first major action set piece in Rome, as well as the final one in Belgium, are excellent. The problem with them is, for the first time in the franchise, you get the sense that the movie is not even trying to top the previous one. Which, on the one hand, makes sense. F9 literally took the characters into space. How do you top that? Well, this is Fast and Furious. Ingenuity is part of the special sauce, and that the two best action scenes in the movie feel like they could have been done four movies ago doesn't help.
After a promising start, Fast X devolves into a jumbled, uneven, nonsensical story that patches its problems with big explosions. Those distractions might be enough for some people, especially since this is the 11th film in the franchise, but just when the Fast movies should be getting more focused on ending, Fast X seems dead set on opening it up to more and more flaws.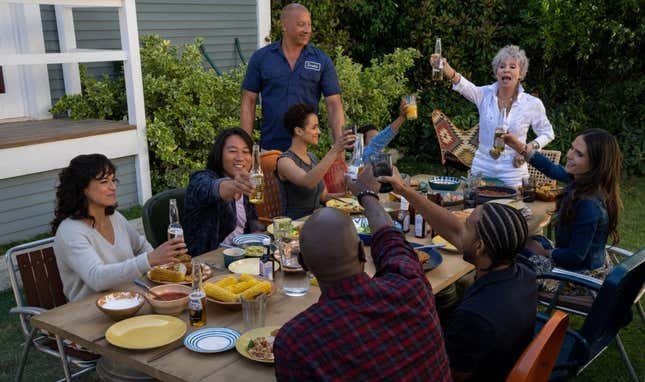 This happens in the movie, but it's not representative of the movie.
Let us never forget, the Fast and Furious franchise has always been about family. So the fact that Fast X is a movie where that family rarely communicates or even shares the same scenes instantly feels off. And when the newly introduced villain is clearly the best thing in the movie, that's an even bigger issue. Hopefully, the 11th (or maybe even 12th) film can make this one look better in retrospect but, as it stands, Fast X is the worst Fast film yet.
Fast X opens in theaters Friday.