Rishi Sunak: Golden Era of UK-China Relations is Over
admin
November 29, 2022
129

7 minutes read
Rishi Sunak Has Said the so-called "Golden Era" of relations with China is over, as He Vowed to "Evolve" the UK's stance Towards the Country.
Rishi Sunak warned on Monday that China posed a 'systemic challenge' to UK 'values and interests'.
In his first foreign policy speech, the PM said the closer economic ties of the previous decade had been "naïve".
He said the UK now needed to replace wishful thinking with "Robust Pragmatism" towards competitors.
But he warned against "Cold War Rhetoric", adding that China's global significance could not be ignored.
Mr Sunak has faced pressure from Tory backbenchers to toughen the UK's stance on China since he took over as Tory leader and UK prime minister last month.
The speech, to the Lord Mayor's Banquet in London, comes after protests in China over the weekend against the country's strict Covid lockdown laws.
His government will Prioritise deepening trade and security ties with Indo-Pacific allies, he said, adding that "economics and security are indivisible" in the region.
Some in Sunak's Conservative Party have been critical of the prime minister, regarding him as less hawkish on China than his predecessor Liz Truss.
Sunak Vows To Engage With China But Consigns 'Golden Era' To The History Books.
UK Prime Minister says Beijing 'Poses a Systemic Challenge to Our Values and Interests' — But He's Criticized For Softening His Stance.
Rishi Sunak Sought To Up His Rhetoric On China on Monday While Carefully Opening The Door To Further Talks With President Xi Jinping.
In his first major speech on foreign policy since becoming U.K. prime minister, Sunak declared the "so-called 'golden era'" in relations between Britain and China to be over, amid escalating tensions between the West and Beijing.
But speaking in London Monday evening, Sunak added that it would be wrong to "simply ignore China's significance in world affairs" and that the U.K. and its allies' approach to Beijing had to include "diplomacy and engagement."
Lawmaker Iain Duncan Smith, a former Conservative Party leader and a vocal Beijing critic who co-chairs the Inter-Parliamentary Alliance on China, said Sunak's "robust pragmatism" meant "anything you want it to mean" and amounted to "Appeasement."
David Lammy, the opposition Labour Party's foreign affairs spokesman, meanwhile, described Sunak's speech as "as thin as gruel."
The United Kingdom has asked the Chinese government to 'take note' of the protests against its strict Zero-Covid policy and restrictions on freedom. "Protests against the Chinese government are rare and when they do happen I think the world should take notice, but I think the Chinese government should take notice, "British foreign secretary James Cleverly told the Press.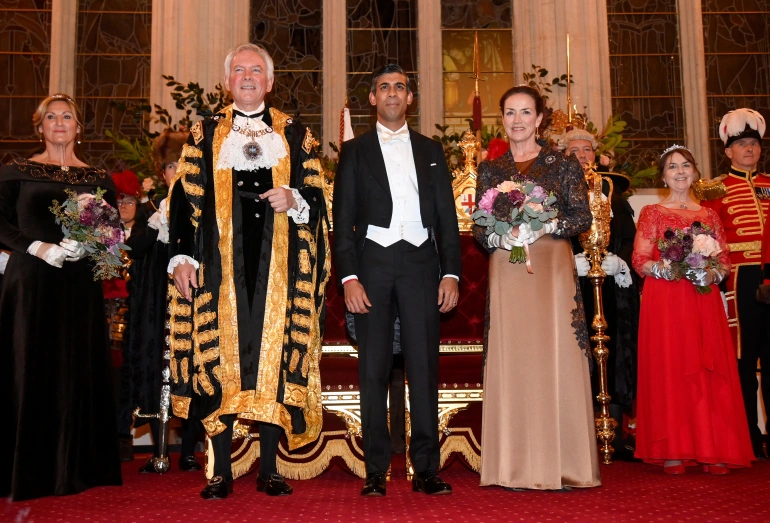 'BRITAIN WOULD NOT CHOOSE STATUS QUO'
From global economic stability or issues like climate change, the world cannot simply ignore China's significance in world affairs, the UK PM pointed out. However, he said that under his leadership, Britain would not choose the 'status quo and would confront international competitors "not with grand rhetoric but with robust pragmatism".
Protests against strict Covid measures in China have flared up over the past few days and have spread to other cities with people raising slogans 'Xi Jinping step down'. Protestors held up blank pieces of paper to express their discontent and acknowledge the censorship as millions been affected by nearly three years of mass testing, quarantines, and snap lockdowns.
Many Conservative MPs in Rishi Sunak's party have been critical of him, regarding him as less hawkish on China than his predecessor Liz Truss. When the British PM was the finance minister, he called for a nuanced strategy for China to balance human rights concerns while expanding economic ties.