Asus' ROG Phone 6D and 6D Ultimate most expensive gaming phone ever uses a MediaTek chipset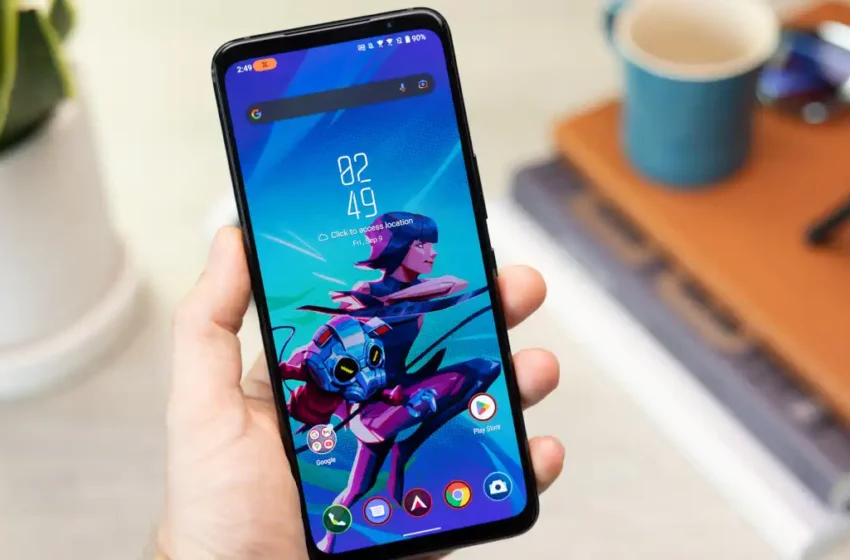 The new ROG Phone 6D and 6D Ultimate are both powered by the Dimensity 9000+
Asus only launched the ROG Phone 6 and 6 Pro in July, but the company has decided it's already time for more gaming phones. The new 6D and 6D Ultimate aren't pitched as direct successors, but the latter does become the most expensive ROG phone Asus has ever made.
We currently only have UK and European pricing for the phones. At £799/€949, the regular 6D is the cheapest in the ROG Phone 6 lineup. But the 6D Ultimate is the priciest, costing £1,199/€1,399.
So, what do these new handsets do differently? As it turns out, there's a clue in the name. The 'D' in this case stands for Dimensity, with both phones powered by MediaTek's flagship Dimensity 9000+ chipset. It's a significant change compared to the 6 and 6 Pro, which use the Snapdragon 8+ Gen 1 from Qualcomm instead. It calls to mind laptop models that have Intel or AMD versions.
Direct comparisons between the two (from the likes of Geekbench 5) suggest performance is roughly similar, although Asus has supposedly overclocked the Dimensity 9000+ to be capable of higher than the advertised 3.35GHz clock speeds. A maximum of 16GB of RAM (compared to 18GB on the 6 Pro) might sound like a downgrade, but it uses the faster DDR5X standard which can't go higher yet.
Asus ROG Phone 6D and 6D Ultimate
There is another important difference that you can notice from the photos, but it is only in 6D Ultimate. Instead of the RGB lighting on the 6 Pro, Asus has included what they call the AeroActive Portal.
It's basically a small wing that opens when the AeroActive Cooler 6 fan is connected to help improve heat dissipation. It is specifically designed for longer gaming sessions where heat can quickly build up and affect performance. Compared to just using the fan, Asus claims this improves thermal efficiency by up to 20%.
Durability is an understandable concern, but the AeroActive port seems to support over 40,000 open and close cycles. It can also detect when the phone is dropped and automatically shuts down, while the IPX4 rating is maintained – though that still means it's splash resistant.
Asus included the AeroActive 6 cooler in the box with the 6D Ultimate, but it's still sold separately if you opt for the standard 6D. Both that and the company's Kunai 3 gamepad are compatible with all ROG Phone 6 handsets.
In other respects, both phones are somewhat unchanged from the 6 and 6 Pro. They feature a 6.78-inch, 2440×1080 OLED display with a 165Hz refresh rate and 720Hz touch sampling. The secondary display behind the ROG Vision is only available on the Pro and Ultimate, however.
Cameras aren't usually a priority on gaming phones, but the 6D and 6D Ultimate still include a triple rear setup, with a 50Mp main sensor paired with 13Mp and 5Mp ultra-wide macro lenses. At the front, a 12-megapixel selfie camera is housed in thin bezels rather than a notch of any kind.
You also still get a 6,000mAh battery capacity, split into two 3,000mAh cells. Battery life is the main strength of the 6 Pro and the Dimensity 9000+, like the Snapdragon 8+ Gen 1, prioritizes energy efficiency.
The 6D and 6D Ultimate run Asus' custom ROG UI and Zen UI skins on top of Android 12 (each starts up depending on what you're doing), with Asus committed to delivering two major OS updates and at least two years of security updates. This suggests that they will eventually get Android 13 and Android 14, but nothing after that, which lags behind other smartphone manufacturers.
Both phones are expected to be released in October, but the ROG Phone 6D and 6D Ultimate aren't yet available to buy. Hopefully the patchy availability of the regular 6 and 6 Pro will have improved by then, too. All four look set to be among the best gaming phones you can buy, with the 6 Pro already sitting third.
Top Gaming Phones of 2022 Comparison
We attached the best Gaming Phone Comparison video – spec comparison between Asus ROG 6D Ultimate vs Xiaomi Black Shark 5 Pro vs ZTE Nubia 7S Pro :
Find more details article on Asus Ros Phone 6 and 6 Pro.