The Best Gaming Laptops to Boost Your Gaming Performance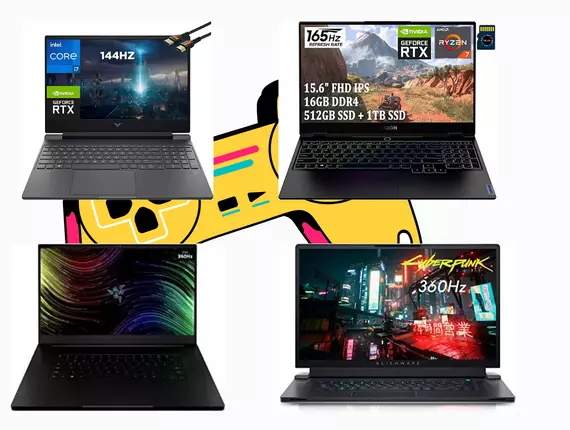 The finest gaming laptops need the newest and most powerful components because gaming is still one of the most demanding activities you can do on a laptop. These mobile powerhouses feature top-tier parts from Intel, AMD, and Nvidia and frequently include displays with quick refresh rates, which are helpful for fluid, responsive gameplay.
The best gaming laptops can have features that are intended for a particular activity, such as responsive keyboards with soft backlighting for nighttime gaming. You can get into gaming without breaking the bank with powerful low-cost laptops like the HP Victus 15.6-Inch and skinny gaming laptops like the Alienware X14.
We have identified the top gaming laptops available right now based on our research and experience. These models are all chosen due to the way that they combine various elements, features, and designs. Want a device with greater versatility? Take a look at our selections of the best 2-in-1 laptops or the best laptops if you're looking for something a little more suitable for work and education.
Best Gaming Laptop Overall
High-End Hardware In a Streamlined Chassis
CPU: Intel Core i7-12700K | RAM: 32GB DDR5 | Graphics: Nvidia GeForce RTX 3080 Ti | Storage: 1TB SSD | Display: 15.6-inch | Resolution: 2,560 x 1,440 | Refresh rate: 240Hz | Battery: Up to 5 hours | Weight: 4.4 pounds
Best for: Playing the latest games at high detail and high frame rates.
The top mobile gaming hardware is available in the Razer Blade 15. This laptop offers plenty of power, from its quick 240Hz 2K display to its Intel Core i7-12700H processor. Compared to lower-tier cards, the Nvidia GeForce RTX 3080 Ti graphics card performs significantly better because to Nvidia's Ampere architecture, which offers faster frame rates, finer detail settings, and improved handling at high resolutions. To keep you gaming for hours, the Blade 15's inside features 32GB of RAM, 1TB of quick storage, and a capable and quiet cooling system.
This elegant laptop boasts a sturdy design, a smooth finish on every surface, a simple chassis, and a display with a narrow bezel. With redesigned, larger keycaps and snappy, responsive switches, the updated, comfortable keyboard allows for more accurate typing and gaming over extended periods of time. The elegant Chroma backlighting by Razer accentuates the keyboard and distinguishes this laptop as a gaming laptop. With such a high-end design, battery life isn't very long, but you can play for a few hours without plugging it in. For the same cost and an Intel Core i7-12800H processor, purchase directly from Razer.
PROS :
High-End Components
Excellent Build Quality
Runs Cool & Quiet
CONS :
Expensive
Limited Battery Life, Especially When Gaming
---
Best 16-Inch Gaming Laptop
Powerful All-AMD Rig, No Sticker Shock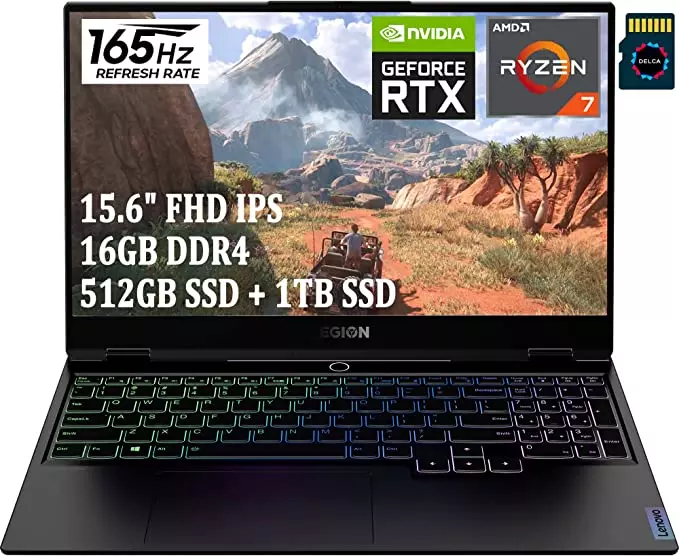 CPU: AMD Ryzen 6900HX | RAM: 16GB DDR4 | Graphics: GeForce RTX 3060 | Storage: 1TB SSD | Display: 16-inch | Resolution: 2,560 x 1,600 | Refresh rate: 165Hz | Battery: Up to 7.8 hours | Weight: 4.5 pounds
Best for: Playing games at high detail and high frame rates.
The Lenovo Legion Slim 7 defies the norm for high-end gaming laptops by providing outstanding performance, a long battery life, and a potent combination of hardware—all for a more affordable price. With the most recent CPU and GPU technology from AMD, as well as their effective process nodes, the Legion Slim 7's 7.8-hour battery life goes far beyond the usual few hours that most gaming laptops are able to run on. You can game for hours on end with a very capable system if you bring in extra intelligent power management technologies (like AMD SmartShift, which helps maximise performance without impacting battery life). Although it cannot compete with the most potent GPUs, the 3060 is more than capable of running the majority of games at high detail levels and frame rates.
The lively and bright screen of this laptop can reach 300 nits of brightness, and its 2K resolution produces sharp text and clear images. With a 1TB SSD, this laptop will start up swiftly and load games rapidly. The 165Hz refresh rate ensures that everything you're playing will seem buttery smooth, especially when playing at higher frame rates. Despite being marketed as being thin, this 4.5-pound laptop weighs a fair amount, though not as much as some rivals. Even so, the Legion Slim 7 is light enough for you to tote around when the want to game strikes.
PROS :
Powerful & Efficient Components
Impressive Battery Life
Vibrant 2K, High Refresh Rate Screen
CONS :
---
Best 17-Inch Gaming Laptop
Big, Bold And Beautiful Display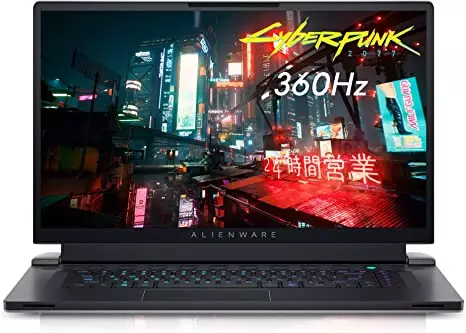 CPU: Intel Core i7-12700H | RAM: 32GB DDR5 | Graphics: Nvidia GeForce RTX 3070 Ti | Storage: 1TB SSD | Display: 17.3-inch | Resolution: 1,920 x 1,080 | Refresh rate: 360Hz | Battery: Up to 5 hours | Weight: 6.8 pounds
Best for: Playing esports and high-paced action games at high frame rates.
The Dell Alienware x17 R2 challenges desktop gaming machines with a massive 17-inch screen and potent components, and it does so in a more portable chassis than many of its counterparts at similar sizes. The Intel Core i7-12700H processor and 16GB of DDR5 RAM in this laptop provide it great overall computing power. This outstanding gaming laptop has all the power you require to play any game thanks to the Nvidia GeForce RTX 3080 Ti, one of the most potent mobile GPUs ever.
The display only has a 1080p resolution, which is a disadvantage for a high-end laptop. But unlike some gaming laptops, this one focuses on increasing fps rather than resolution. This laptop's 360Hz refresh rate makes fast-paced games look incredibly smooth, and it provides you an advantage over other gamers by reducing your response time and input lag. With the power line unplugged, the battery life is only around an hour for intense gaming, but it stays cool because of advancements in Dell's cooling technologies. Anyone who dares to glance at the laptop will immediately recognise it as a "gaming" machine. It is also weighty enough to feel at home parked on your desktop.
PROS :
Big, Super-fast display for competitive gaming
High-End Components
Gorgeous Design
CONS :
---
Razer's Biggest & Baddest Laptop
CPU: Intel Core i7-12800H | RAM: 32GB DDR5 | Graphics: Nvidia GeForce RTX 3080 Ti | Storage: 1TB SSD | Display: 17.3-inch | Resolution: 2,560 x 1,440 | Refresh rate: 240Hz | Battery: Up to 5 hours | Weight: 6.1 pounds
Best for: Playing the latest AAA games at the highest detail settings.
The Razer Blade 17 is here if you enjoyed the design of the Razer Blade 15 but felt it was just not quite enough of a laptop for you. With the addition of the keyboard's backlighting and the laptop's RGB lights, the same slender, black chassis looks fantastic. It's pretty hefty and has a poor battery life (around an hour for high-end gaming), but as long as you play games at a desk while it's plugged in, none of those things will really matter.
Performance is what counts, and this laptop's high-power technology allows you to play any game you like at the maximum detail settings and with a high frame rate. You have all the power you need for the most recent AAA and esports games with an Intel Core i7-12800H and an Nvidia GeForce RTX 3080 Ti, and a 240Hz screen allows you to see incredibly fluid visuals and have a very responsive gaming experience for competitive play.
PROS :
Big, Super-fast display for competitive gaming
Awesome Performance from powerful hardware
Sleek Design
CONS :
---
Best Gaming Laptop Under $600
A Low – Cost Config For Casual Games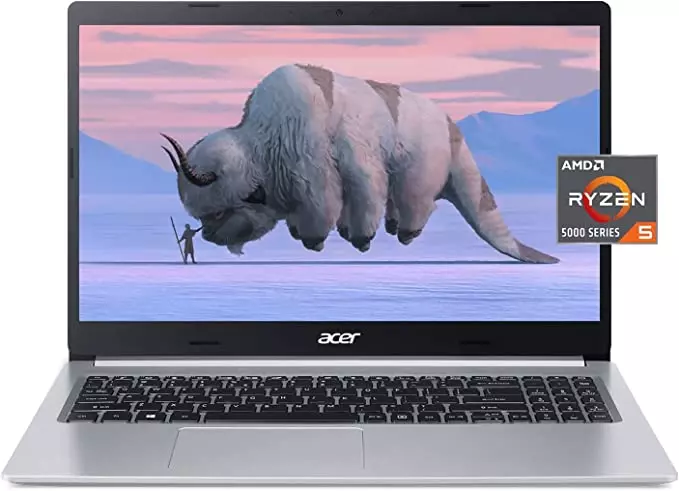 CPU: AMD Ryzen 5 5500U | RAM: 8GB DDR4 | Graphics: AMD Radeon 7 | Storage: 512GB SSD | Display: 15.6-inches | Resolution: 1,920 x 1,080 | Refresh rate: 60Hz | Battery: Up to 13 hours | Weight: 3.9 pounds
Best for: Casual esports and indie gaming.
The average price of a gaming laptop is roughly $800, but that doesn't imply you can't get one if your budget is lower. Although the Acer Aspire 5 (A515-45-R74Z) isn't specifically designed as a gaming laptop, its AMD Ryzen 5500U processor, 8GB of RAM, and integrated Radeon Vega graphics have enough processing power to run casual, independent, and esports games. Even older, less demanding AAA games will run on it, however you may need to tweak the settings given the limitations of this system.
The unassuming 1080p display makes sure that when playing games at native resolution, the inbuilt graphics engine is not overworked. For Windows and a few games, the 512GB SSD provides more than enough space. This laptop includes built-in 720p webcam, Wi-Fi 6, and Bluetooth 5.0 connectivity. Additionally, it boasts excellent battery life, lasting more than 11 hours with mixed use or significantly longer when gaming. On paper, this isn't a gaming laptop, but for a reasonable cost, it can play less demanding games pretty effectively.
PROS :
Good For Casual, Less-Demanding Games
Cool & Quiet, Even When Gaming
Wi-Fi 6 Support
CONS :
Onboard Graphics Are Underpowered For AAA Gaming
Limited Storage For Bigger Game Libraries
---
Best Budget Gaming Laptop
Affordable Yet Packed With Real Power
CPU: Intel Core i7-12650H | RAM: 16GB DDR4 |Graphics: Nvidia GeForce RTX 3050 Ti | Storage: 512GB SSD | Display: 15.6-inch | Resolution: 1,920 x 1,080 | Refresh rate: 144Hz | Battery: Up to 10 hours | Weight: 5.1 pounds
Best for: Playing casual esports and indie titles.
If you want something more potent than the low-cost choice below, you may choose this more aggressive design because the HP Victus is available in a variety of configurations. It retains the same premium chassis and double-digit battery life but gains an Intel Core i7-12650H processor and, more critically, an Nvidia GeForce RTX 3050 Ti graphics card. These tensor and RT cores enable users to enable ray tracing (in supported games) and take advantage of deep learning super sampling to increase frame rates without sacrificing visual quality. This GPU is significantly more powerful, delivering higher detail settings and frame rates in traditional games.
As a pre-configured system from Best Buy, you don't have the same upgrade possibilities as at the HP store, despite the fact that the display is 1080p at 144Hz. However, you can acquire a cheap laptop with 16GB of RAM and 512GB of SSD storage, which is a superior setup overall and will feel and look more snappy no matter what games you play.
PROS :
Plenty Of Storage Space
Fast Display
CONS :
---
Which graphics card is best for gaming on a laptop?
The most crucial part of a gaming laptop is the graphics card or chip, which enables higher resolutions, frame rates, and detail settings than any ordinary laptop is capable of.
For recreational esports and indie games, integrated graphics may be sufficient at the most entry-level end of the spectrum, but it's preferable to get a device with an Nvidia GeForce GTX 1650 or AMD Radeon RX 6400—either is a fantastic choice. Simple 1080p gameplay at high frame rates and low detail settings is ideal for these GPUs. Upgrade to a GeForce 3060 Ti or 3070 Ti from Nvidia or an AMD Radeon RX 6700M if you wish to play more demanding games. To game in 4K, look for the greatest graphics card you can afford (the best models currently on the market are the Nvidia 3080 Ti or AMD 6800M).
A Gaming Laptop for $1,000: Is It a Good Deal?
The best multi-purpose laptops typically cost around $1,000, and gaming laptops are not all that different. You normally get a good 1080p gaming laptop with that type of laptop, which won't be the finest for the newest and greatest games but will give you excellent frame rates in eSports games.
Aim for a machine at around $1,300 if you want to play at higher resolutions, but remember that performance gets better as price increases. The most premium gaming laptops can cost upwards of $3,000, with many of the most expensive models. Therefore, once you start looking at high-end devices, your only restriction is your money.
All things considered, you can still get considerably more powerful gaming laptops for under $1,000 if you time it just right and purchase one of the greatest prices on gaming laptops during a significant sale, especially if you settle for a last-generation flagship that still provides good performance.
Do You Require a High Refresh Rate Display?
When playing eSports or older games with higher frame rates, high-refresh-rate displays can really enhance your gaming experience. You may play games with less input lag and smoother animations if your display has a high refresh rate and a high number of frames per second. This implies that in addition to improving the look and gameplay of your games, it can also improve your own gameplay, giving you a minor performance edge in competitive gaming.
Particularly on the smaller displays seen in the majority of gaming laptops, greater refresh rates are frequently a more advantageous upgrade than a higher resolution. On a 15-inch screen, you won't see much of a difference between 1080p and 4K, but you can tell the difference between 60Hz and 144Hz. Although the difference between that and 240 Hz or 360 Hz is not as noticeable, you should still be able to sense it.
Which gaming laptop is best, a 13-inch, 15-inch, or 17-inch model?
Almost usually, a larger screen will provide a better experience. It's a great gaming experience, which is why there will be gaming monitors as large as 49 inches in 2022. The maximum display on gaming laptops is limited to 17 inches. However, that is still a size that is excellent for a gaming laptop, and it will undoubtedly provide you with a more interesting gaming experience than a 13-inch model.
But when it comes to gaming laptops, you also need to consider portability. Larger screens result in larger, heavier, less manoeuvrable laptops that frequently have shorter battery lives.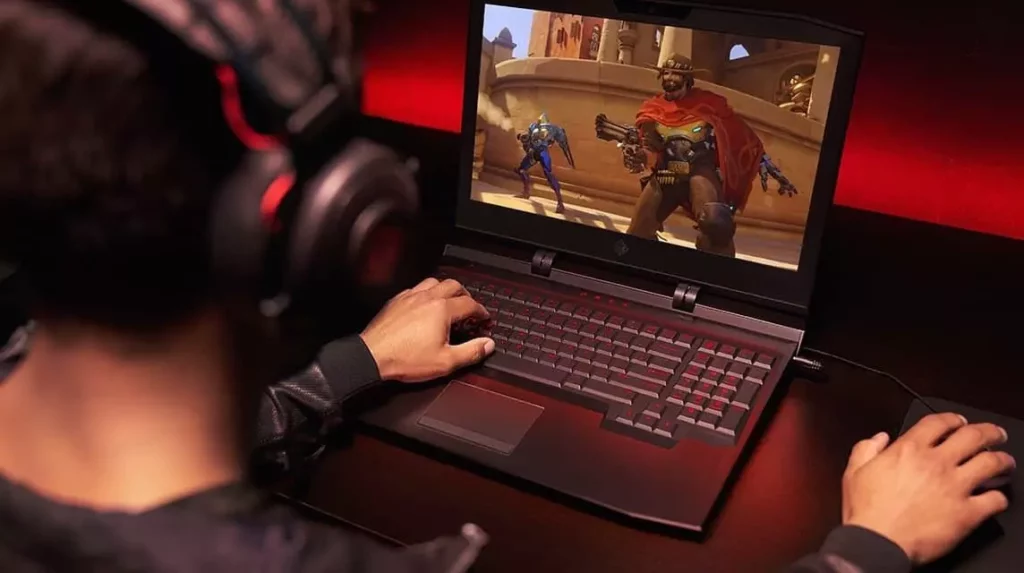 The weight of a 17-inch gaming laptop makes it ideal to sit at a desk. Because of their increased thermal headroom, bigger gaming laptops frequently feature better components and better performance. The most mobile gaming laptops, with actual on-the-go gaming and frequently long battery lives, are 13 inches. However, the parts don't have as much strength.
The most recent generation of 14-inch and 15.6-inch gaming laptops provide superb performance and far greater portability than their larger 17-inch counterparts for a suitable medium ground. Choose the performance profile, size, and shape that are best for you.
Is a gaming laptop financially worthwhile?
Yes, without a doubt, if your primary goal in using your laptop is gaming. A gaming laptop performs substantially better than a laptop designed for more general use. Additionally, gaming laptops offer a considerably more responsive and fluid gaming experience thanks to displays with high refresh rates and short response times that lessen input lag, ghosting, and screen tearing—all of which may be significant issues with non-gaming laptops.
Non-gaming laptops are not future-proof, in contrast to gaming laptops. The greatest gaming laptops of today will continue to be able to play the newest games for years to come if they have a strong graphics chip. Non-gaming laptops without specialised graphics simply cannot play certain games, even if they can no longer reach the highest detail settings.
Who Are the Best Manufacturers of Gaming Laptops?
Modern gaming laptops are more widely available, and many manufacturers of multipurpose laptops now offer gaming systems. System optimization for gaming is a specialty of several businesses.
The top laptop manufacturers right now for gamers include Razer, Asus, Acer, Dell Alienware, MSI, and Lenovo. The majority of these manufacturers offer gaming laptops, but some also offer models without the "gaming" label that can play games. While some businesses concentrate on creating lightweight, powerful designs, others go all-out with more powerful systems that can compete with some gaming desktops.
Do You Really Need a Gaming Laptop?
Anyone who doesn't play video games frequently does not need a gaming laptop. In reality, by looking at more popular laptops without a dedicated GPU, you can get much more for your money if you don't intend to use your new computer primarily for gaming: These devices outperform gaming laptops in terms of portability, higher-resolution displays, and battery life.
However, you should think about it if you enjoy playing video games and plan to use your laptop for that purpose the most of the time. The most recent gaming laptops deliver incredible performance that surpasses some potent desktops, and the majority have quick displays so you can play games that are smoother and more quickly.
Gaming laptops also have useful features like clever power switching technologies that maximise performance and efficiency, so you may play your games at their peak without draining the battery or producing excessive heat. Speaking of which, the majority of gaming laptops have good cooling to ensure that while you play, your system keeps quite cool and isn't too noisy (although some gaming laptops can still get loud).
The majority of gaming laptops also have good keyboards since in some games, a responsive keyboard can make all the difference. Even yet, since using a touchpad for gaming is infamously challenging, you might want to add an additional gaming keyboard and mouse.
What CPU Is Required for Gaming? 
The two processor brands you want in a gaming computer are Intel and AMD, which are the most common ones utilised in all computers. In recent years, their chips' design and performance capabilities have seen enormous revolutions. The efficiency of chips is still increasing, and battery life is better than ever.
It's still necessary to have a good CPU, and some games, like F1 22 and Microsoft Flight Simulator (2020), truly benefit from it even though CPU performance isn't as important to gaming performance as it once was.
As a general guideline, you want a gaming laptop with a recent-generation CPU because the specific performance of the CPU in your laptop will depend as much on the system's cooling as it would on the CPU type. That would be a Ryzen 4000, 5000, or 6000 CPU for AMD laptops. It's either the 11th or 12th generation for Intel. But in both situations, if you can stick to the AMD Ryzen 6000 and Intel 12th-generation ranges, you'll receive a far superior CPU as they both made significant improvements in speed and efficiency.
The kind of processor you require greatly depends on the games you play. You probably won't need anything too strong if you play basic independent games or are a casual gamer.