How Meaningful Is It for SZA That 'Kill Bill' Finally Hit No. 1?
admin
May 3, 2023
48

21 minutes read
This week's Five Burning Questions looks at SZA's SOS smash, which becomes her first Hot 100 No. 1 in its 19th week on the listing.
The late surge for "Kill Bill" (which ranked at No. 4 the prior week) is largely due to the debut of the song's remix, given an assist by an old co-star in Doja Cat — though the official credit on the No. 1 is still given to SZA solo, given that the remix did not account for the majority of the song's overall consumption during the chart tracking week. It marks SZA's first No. 1 on the Hot 100, after previously getting as high as No. 3 (as featured on Doja's "Kiss Me More").
How important is it that "Kill Bill" finally grabbed that top spot? And what films should SZA be pulling up for a potential sequel? READNEXPO staffers discuss these questions and more below.
1. "Kill Bill" finally tops the Hot 100 in its 19th week, all but one of which was spent in the chart's top 10. Are you surprised that the song has had such longevity?
Katie Atkinson: I'm not surprised by its longevity, but I am surprised that it's taken this long to climb to No. 1. SOS has had such a major impact since its December release, I was certain "Kill Bill" would sneak to the top at some point. I guess I was right (eventually), but I thought it would cut in front of Miley Cyrus during her unstoppable "Flowers" run earlier this year.
Stephen Daw: A little bit! It's been clear for a while that SOS was going to have massive endurance when it came to Billboard 200, and "Kill Bill" naturally earned its spot near the top of the Hot 100 as a fan favorite. But to see the song finally hit its peak 19 weeks in and after a whopping 8 non-consecutive weeks at No. 2 is pretty surprising. Even SZA seemed to be surprised at the song's success, and that was before it hit No. 1!
Jason Lipshutz: Yes – not because it's not a great song, but because it doesn't scream "surefire smash single that is going to reside in the top 5 of the Hot 100 for one-third of a year." Even SZA didn't think "Kill Bill" was the song from SOS that was going to pop, but the midtempo revenge fantasy not only immediately connected upon the late 2022 album release, but has defined the first chunk of 2023 in a way that no other song has. It took me a few weeks to understand why "Kill Bill" became the biggest solo hit of SZA's career, but I'm still pretty shocked that it's lasted this long near (and, now, in) the top spot of the chart.
Neena Rouhani: Not at all. This song has staying power and the shock factor. The lyrics "I just killed my ex, not the best idea," reminds me of those gasp-inducing choruses of hit singles that defined my childhood, like Katy Perry's "I kissed a girl and I liked it." So, not only do I think it can endure for 19 weeks, but for years to come.
Andrew Unterberger: Not once it started showing legs early on — but I wouldn't have predicted much, if anything, about this "Kill Bill" run when I first heard the song. It's pretty cool, just a good song finding a much wider and more receptive audience than any tastemakers would've likely guessed for it. Almost never a bad thing for pop music.
2. Obviously the bump for "Kill Bill" this week is largely due to the debut of its new remix, featuring SZA's old "Kiss Me More" co-star Doja Cat. Is the new version an interesting/significant expansion of the song and its universe, or more just a fun bonus for fans?
Katie Atkinson: Both! I love Doja's verse, and I love that it kicks off the song with a whole new storyline to immerse yourself in. I think the original still stands on its own as an excellent song, but the combination of SZA and Doja Cat is undeniable. I hope that — similar to The Weeknd and Ariana Grande – these two continually link up for duets, features and remixes throughout their respective album cycles. Also, Doja has been hinting on Twitter that she's wanting to go all in on rap on her next album, and her flow on this verse has me very pumped for an all-rap project from her.
Stephen Daw: It's pretty clearly a fun bonus. Doja is a perfect fit not only for SZA as an artist, but for "Kill Bill" as a song — this is one of my favorite guest verses of hers. Kicking off the song with the added context from Doja's verse is also a smart way to immediately give fans a different flavor. But ultimately, Doja's fiery intro doesn't really change or significantly build upon what makes "Kill Bill" a great song already, which is SZA's top-tier vocals and A+ songwriting.
Jason Lipshutz: Fun bonus for fans, and there's nothing wrong with that. Doja's verse adds some violent specificity to SZA's vengeance, and as one of the most skilled rappers alive, she floats over the woozy beat while telling her bloody story. Yet the remix doesn't change the blueprint of the original, which ultimately stands a little more comfortably in its structure, and will more clearly stand the test of time. Fans should think of the remix as a thank-you for their support of the song – which was quickly repaid by listeners with a Hot 100 chart-topper.
Neena Rouhani: I think it has more value than being a fun bonus, at least for Doja. People love seeing her rap and I think it further cements her status as a rapper as well as a singer. She really told a captivating story and I think it's a big part of her ever-expanding artistic identity.
Andrew Unterberger: Fun bonus. Kinda wish they'd done a little more with "Doja" involvement — her verse is predictably good, but it's over by the minute mark, and then it's basically just the original version from there. Some interplay between Doja and SZA would've made it more fun, and shifting the beat/production of the original to make the remix more distinctive also could've gone a long way to making it feel like a legitimate continuation rather than just a late add-on. That's not usually the name of the game with remixes in 2023, but from artists as generally creative and thoughtful as SZA and Doja, it's not unreasonable to expect a little bit more.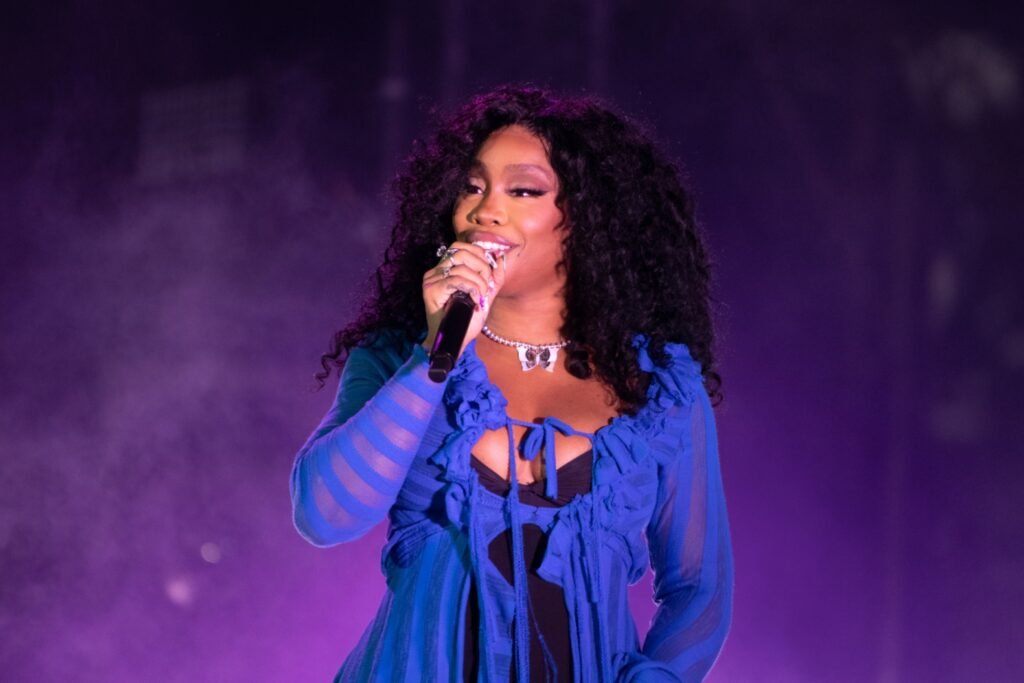 3. A good deal of the endurance for "Kill Bill" on the charts is due to the chart-topping success of the song on pop radio — a format that in recent history has mostly been slow to embrace R&B-based songs. Do you think the song's success will end up being meaningful or impactful for top 40, or was "Kill Bill" just an exception that was too big and/or too good to ignore?
Katie Atkinson: "Kill Bill" is based in R&B, yes, but it also has an undeniably earwormy melody that is a perfect fit on top 40 radio. And I think what makes sense for pop radio is rapidly changing too (see: Steve Lacy's "Bad Habit" topping the Pop Airplay chart late last year), so I don't think this is an exception so much as a harbinger of what's to come on an increasingly nimble format.
Stephen Daw: I don't know that "Kill Bill" specifically is going to be the final nail in pop radio not playing R&B-influenced tracks, but I do think that SZA is going to be the artist to bring that particular trend to an end. With the success of SOS alone, SZA's proven multiple times over that alt-R&B is the sound that people are gravitating towards, and pop radio can't really ignore that any longer. One can only hope that the success of "Kill Bill" is more than a one-off for these stations as they figure out that this is the sound listeners want more of.
Jason Lipshutz: While "Kill Bill" was too good to ignore, SZA was too big to overlook: her long-awaited return with SOS produced a commercial juggernaut that's still in the top 3 of the Billboard 200 chart four months after its release. SZA has had some pop radio success before – most memorably alongside Doja Cat on "Kiss Me More," but also on songs with Kendrick Lamar and Justin Timberlake – and to shrug off a superstar of her stature, with a streaming smash like "Kill Bill," would have been a misstep from top 40 programmers. Thankfully, they didn't make it.
Neena Rouhani: I don't think this track is deep enough in the R&B pocket to be written off the same way pop radio writes off other R&B songs. So for that reason, I don't see it sparking any larger conversation surrounding R&B's inclusion on pop radio stations.
Andrew Unterberger: I don't know if it's as meaningful for R&B specifically as it is for non-traditionally top 40-sounding songs that are putting up undeniable numbers in other metrics (particularly streaming). Pop radio has shown more of a "whatever works" attitude towards playlisting lately, and "Kill Bill" unquestionably worked. That said, so are a lot of other songs by R&B artists in 2023, so hopefully we'll start to see top 40 embrace those in a similar fashion.
4. How important is it to the legacy of "Kill Bill" that it hit No. 1 after spending eight weeks at No. 2? Do you think people (or that you yourself) will remember it differently because it was able to get over that hump?
Katie Atkinson: I will! But I probably care more about charts than the average music fan. There's something about that elite club that truly cements a song's legacy, but of course there are countless massive songs that stalled out at No. 2 – Lady Gaga's "Bad Romance" spent seven weeks there, Ed Sheeran's "Thinking Out Loud" spent eight, Shania Twain's "You're Still the One" spent nine, Foreigner's "Waiting for a Girl Like You" spent 10 – so history would still remember "Kill Bill" kindly.
Stephen Daw: Look, people may love a Cinderella story, but that doesn't mean that's going to be a defining feature of this song in the years to come. Look back at other songs that had similar trajectories — "Bad Guy" by Billie Eilish eventually going No. 1 largely doesn't change the way that people think about it. "Havana" is Camila Cabello's signature song to this day not because it eventually reached the top of the charts after seven weeks, but because it's an extremely catchy tune. Sure, "Kill Bill" being SZA's first No. 1 single will be a huge part of its legacy — but I genuinely don't think it's slow-burn approach to rising up the charts will have any real impact on public memory of this song.
Jason Lipshutz: It's sort of like if a certain Philadelphia-based athlete were to finally win an MVP trophy after years of being in the conversation for the league's top prize: finishing at No. 1 doesn't greatly alter a legacy, but it does help crystallize it, right? "Kill Bill" deserved to spend at least one frame as the biggest song in the country, and forever preserve the Hot 100 impact that SZA achieved with the song. And thankfully, this discourse didn't need to turn toxic in order to get it over the hump!
Neena Rouhani: I mean, I think it's very important just to add to SZA's stats and to have that "No. 1 moment," but whether or not it topped the chart wouldn't take away from its impact and significance. A lot of really incredible songs never hit No. 1, like Rihanna's "Pon De Replay" or Beyoncé and Jay-Z's "Drunk In Love."
Andrew Unterberger: Not really. I sorta wish artists would embrace the proud legacy of a long-running No. 2 hit that never makes No. 1 — Missy Elliott's "Work It" and Foreigner's "Waiting for a Girl Like You" are the current co-holders of that endurance record, and they're two of my favorite pop songs ever — as well as the honor of having a so-close No. 2 before ultimately reaching the top spot, a path taken by such recent luminaries as Justin Bieber, Taylor Swift, Nicki Minaj, Rihanna and Ariana Grande. SZA's gonna be contending for No. 1s for a long time still, I don't think it would've been tragic to let this one fall a spot short.
5. Let's say SZA decides that lead singles named after movies are the way for her to go moving forward. What film would you choose to title (and serve as the jumping-off point for) her next effort?
Katie Atkinson: Apparently Pretty Woman is SZA's favorite movie, so maybe she can do a whole song with that title, or interpolate Roy Orbison's classic (which itself inspired the movie's title). As long as she includes the line "Big mistake. HUGE.," I'm all in.
Stephen Daw: She doesn't even need to write a new one — just take her existing SOS slow-jam "Gone Girl," give it a slightly more sinister remix and intersperse clips from Rosamund Pike's "cool girl" monologue from the movie of the same name, and you've got a hit on your hands.
Jason Lipshutz: Let's stick with Tarantino and go with "Death Proof," focusing on her indestructible mind and spirit. Maybe we even get a video where she gets her revenge on her own Stuntman Mike!
Neena Rouhani: Hear me out…. "Edward SZA-hands."
Andrew Unterberger: "Uncut Gems." Don't exactly have a coherent script for it yet — it's an evocative-enough title there are plenty of directions you could take it — but I bet you can guess who's showing up for the late-game remix.