Best Places in North India for Corporate Outings to Recharge and Build
Octanews
October 11, 2023
53

35 minutes read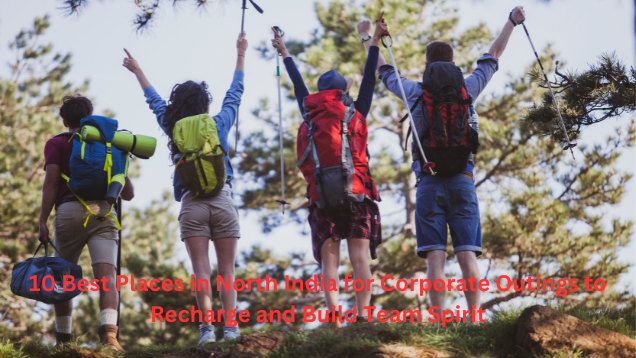 Corporate outings are typically held to maximize the possible benefits of the staff by the respective companies by offering fascinating activities to their staff involved and interested throughout the hectic schedules. Therefore, corporate outings are a great way to renew the spirit of the corporate teams, which not only promotes unity but also increases productivity.
North India has a wide range of possibilities for unforgettable corporate trips because of its diversified natural environments, extensive heritage of culture, and many adventurous activities.
There's no better way to get to know colleagues' families and foster bonding with the companies than a corporate trip. When a group travels together, they create a team that works together. And we believe that travelling together with teammates fosters a strong sense of teamwork, which ultimately results in an unbreakable link and connection. Additionally, a corporate outing in the desired location of North India offers corporate companies a chance to have endless fun.
In this blog, let's explore the best 10 locations in North India for corporate outings, each of which offers a unique mix of leisure and team-building activities. Have a read!
Rishikesh, Uttarakhand
Jim Corbett National Park, Uttarakhand
Ranthambore, Rajasthan
Jaipur, Rajasthan
Dharamshala, Himachal
Agra, Uttar Pradesh
Neemrana, Rajasthan
Leh, Ladakh
Udaipur, Rajasthan
Manali, Himachal Pradesh
Explore Popular Destinations Tour Packages
Uttarakhand Holiday Packages
Rajasthan Holiday Packages
Himachal Holiday Packages
Uttar Pradesh Holiday Packages
Ladakh Holiday Packages
Rishikesh, Uttarakhand
Rishikesh, where the sun casts rays of gold, orange, and red on the river bed, is a location where adventure strikes the adrenaline rush and isolation calms the soul. A trip to Rishikesh with co-workers may alter how the staff perceives a corporate outing and offers a wide range of adventurous activities. The majority of these fun and adventure activities can be successfully implemented as team-building exercises in corporate adventure programmes. The most favored adventure activity of the corporate companies is River Rafting. Here, the teams work together to build camps, learn many survival skills, and understand the importance of teamwork.
Rishikesh offers amazing adventure activities which include river rafting, bungee jumping, mountain biking, flying fox, cliff jumping, trekking, etc. are some of the best things to do in Rishikesh. Corporate companies also look forward to taking their staff to Rishikesh for Yoga sessions which will help the staff to relax their mind and cleanse their soul as it is called the yoga hub of the world.
The best corporate retreats of Rishikesh:
The Westin Resort & Spa, Himalayas – The resort's Grand Ballroom, is an architectural wonder created to reinvent the event in one of the conference rooms. This exquisite location has an amazing ability to host up to 750 respected guests. This location guarantees a flawless and enjoyable event for group discussions or a business offsite in Rishikesh. The resort officials completely understand the importance of thorough planning and smooth implementation.
Aloha on the Ganges – looking for a place to organise a workshop, product launch, management seminar, marketing session, or training session. This hotel can arrange for all the facilities to meet the specific requirements of the corporate events and meetings that are to be held and guarantee a successful event. They also assist with planned theme events and team-building activities. Meeting rooms and spaces are completely furnished with cutting-edge presentation equipment and communication technologies to ensure a successful business event.
Atali Ganga – Atali Ganga is an adventure-focused resort that provides meeting space in addition to a variety of outdoor activities including rock climbing, rafting, and hiking. It's a great option for team-building activities.
Jim Corbett National Park, Uttarakhand
Jim Corbett National Park is a forested wildlife sanctuary in India's Uttarakhand state. Established in 1936 as Hailey National Park, Jim Corbett National Park is one of the oldest and finest national parks in India. Named to tribute Jim Corbett, a well-known hunter who later became an author and supporter of wildlife conservation.
For corporate outings, it is one of the best team outing places near Delhi because the corporate world looks forward to making strong connections with their employees by going on Jungle safaris. Jungle safari activity helps individuals to sharpen their observational skills and teaches them to be patient. Corporate companies choose this place to organize their business meets and events to help their employees understand and enjoy the events with full heart.
Jim Corbett National Park is one of the ideal locations for corporate outings in North India as the beautiful scenery, calm surroundings, pure and healthy air, and magnificent resort make it perfect for corporate outings. Covered with a diverse variety of flora and fauna, there's a lot to explore in Jim Corbett.
The best corporate retreats of Jim Corbett:
Corbett The Baagh Spa & Resort – This resort has a spa and wellness area in addition to meeting rooms for business groups. Provides a calm setting for business discussions. Its lavish, state-of-the-art infrastructure ensures exceptional services for continuous and consistent productivity.
The Golden Tusk – In the middle of a lush green forest, this luxurious resort provides conference facilities with cutting-edge services. It is renowned for its large accommodations, fine meals, and picturesque surroundings. Also, this resort arranges for jungle safaris with proper measures. A bonfire, swimming, music, and dance at this luxurious resort in scenic Jim Corbett will be a soul-soothing experience.
Namah Resort – This resort is tucked away on the banks of the River Kosi, which offers meeting spaces and a peaceful setting for business gatherings. The resort provides a range of recreational activities and adventure possibilities. Up to 800 guests can be accommodated in comfort within their magnificent indoor and outdoor venues. Jungle safaris and nature walks can also be experienced here.
Ranthambore, Rajasthan
The fascinating exploration of Ranthambore National Park is an experience of a lifetime to remember. It is filled with dense jungles, surrounded by hills and natural beauty. Sightseeing tigers in this well-known national park in North India is the best activity, no doubt.
The corporate companies visit Ranthambore National Park for wildlife sightings which include jeep safari and canter safari, this helps them to escape from the pressure they face in their daily lives. Nature walks, treasure hunts and outdoor activities in this wildlife sanctuary foster teamwork and communication among the team members.
The best corporate retreats of Ranthambore:
Pugmark Resort – The Pugmark Resort provides conference spaces along with safari arrangements to possibly incorporate business meetings with nature excursions. The resort has a 120-person capacity room that is well-equipped. Inside the banquet, high-level meetings can be held. For jeep or canter safaris, the visitors travel to the park in a canter or a gypsy, both of which have proper facilities for comfort and great sights. Spotting tigers, and other different kinds of wildlife animals during safaris is one of the best things to do in Ranthambore.
Oberoi Vanya Vilas – To hold a conference or meeting within the resort, the conference hall is elegantly decorated and well-lit. There are fifty seats available in this space along with the modern technologies with prior notice. Also, there is a lawn to relax by taking a break from work and having tea or coffee. Jungle drives are also available equipped with high-quality suspension, broader tires, and cushioned seats.
The Tigress Ranthambore – A magnificent location to host various events is Shahi Bagh at The Tigress. Host business meets, corporate events, group discussions, seminars, etc. without worrying about anything except pleasure! The venue can hold up to 1,000 people and can accommodate small events in the lawn and banquet area.
Jaipur, Rajasthan
There are several outing spots in Jaipur, from magnificent forts located on hills to lush green gardens covering kilometers at a time. India's pink city Jaipur is well-known by everyone because all the buildings and structures in the city have been painted pink and have been that way since 1870.
The natural beauty and scenic ambiance of Jaipur offer to make a day exciting, whether the corporate employees want to enjoy the still waters of Chandlai Lake or the magnificent forts and palaces of the kings. Jaipur is considered one of the best locations to organise corporate team outings to provide the team with an experience of team bonding and promote communication. Many in-house activities are organized for the guests here such as treasure hunt games, horse riding, camel riding, and other fun activities. Corporate teams choose this destination for their business meetings and workshops. This helps to create a bond between the company members.
The best corporate retreats of Jaipur:
Rambagh Palace – This palace is a royal residence managed by the Taj Hotels group and is a well-liked location for business meetings, events, and get-togethers. It includes both interior dinner rooms and outdoor lawn spaces to enjoy the royal dinner. The palace contains spaces that are appropriate for both intimate gatherings and large-scale gatherings. The conference rooms here are fully furnished which guarantees the success of the corporate meetings and presentations.
Fairmont Jaipur – The Fairmont Jaipur is a luxurious hotel which is a great location for corporate meetings. Modern conference spaces, lovely gardens, and spa facilities are all present here. The Mughal Empire served as inspiration for the hotel's architecture, which offers a regal setting for events and gatherings.
The Oberoi Rajvilas – This opulent resort offers a tranquil setting for corporate gateways since it is situated in a 32-acre paradise. It provides convention spaces, spa facilities, and luxurious lodgings. Professional gatherings can be held in their conference room, which can accommodate up to 72 people, and the boardroom can accommodate up to 22. They provide a variety of modern technologies and audio-visual equipment on request.
Dharamshala, Himachal Pradesh
Dharamshala is another best hillside city to visit in Himachal for a corporate trip. It is fully surrounded by beautiful forests on the edge of the Himalayas. This place in Himachal is home to the Dalai Lama and the architecture of the buildings, beautiful churches, Tibetan culture, hilly trees, dense forests, waterfalls, and cool breeze form mesmerizing scenic views for the visitors.
From nature walks to adventurous activities, all kinds of fun activities are organized here in the camping zones. This place is also great for trekking and paragliding and therefore it can be best for holding corporate trips in North India. Corporate companies look forward to understanding their teammates as this adventure will increase the bond of trust and companionship among them.
The best corporate retreats of Dharamshala:
The Pavilion by HPCA – This hotel, which is close to the renowned HPCA Cricket Stadium, has large conference spaces, a convenient setting for business gatherings, and is also a great choice for sports fans. Every venue has state-of-the-art amenities, stylish decor, and total assistance from qualified and professional staff. It can hold a capacity of between 100 to 150 people.
Chonor House – Chonor House offers a distinctive Tibetan experience and is located in the centre of McLeod Ganj. It provides a quiet setting for retreats and meeting spaces. Additionally, Chonor House offers a conference room that is perfect for conferences, business meetings, and educational activities. The hall has been elegantly decorated with artwork made by Norbulingka Institute artists. It can provide both a private and corporate setting for up to 100 guests.
Indraprastha Spa Resorts – The exceptional setting of Indraprastha Resort is ideal for conducting business conferences and seminars. Many corporate companies choose the banquet and meeting halls that are available for their corporate gatherings, fashion shows, product launches, seminars, and several other events. Their outstanding hospitality and attention to detail make their resort the ideal location for team outings and team-building Here, one can also experience paragliding, trekking, rock climbing, and other adventurous activities from the high hills of Dharamshala.
Agra, Uttar Pradesh
Agra, located in the heart of Uttar Pradesh near the banks of river Yamuna, is one of the best corporate team outing places as it offers a calm and peaceful atmosphere for corporate and business travellers.
Visiting this place with the corporate teams will help conduct meetings and social events. Also, corporate meetings and events can take place here with both national and international clients. The corporate groups will experience a sense of sheer pleasure here by organising a hassle-free and professionally supervised event.
The best corporate retreats of Agra:
The Retreat – Choosing this luxury hotel in Agra as the location for corporate meetings and social events makes one confident that everything will go smoothly and will be well planned. Every event at this hotel has its distinctive charm as it has 52 rooms, 2 conference rooms, and a stunning outdoor site for business meetings. Also, there is a well-designed swimming pool side near the lobby area with comfortable loungers and parasols.
Radisson Hotel – Whether it's a major company event, conference, or product launch, each event requires both the right facilities and organisational expertise. The event management staff expertly supervises event activities and ensures a successful outcome.
The Oberoi Amarvilas – This high-end hotel in Agra provides professional facilities and the perfect space for meetings and conferences.
Neemrana, Rajasthan
Neemrana is situated in an old historic town in the city of Alwar, especially popular for weekend outings. Visiting this historic location during the weekends with the corporate team members will be a thrilling experience to encounter and this will be quite a memorable corporate outing hence this is one of the best corporate outing places in North India which impresses the heart of travellers with its royal and grand treatment. Events and meetings of companies and organisations are held here in this tranquil and beautiful setting away from a regular office.
Even many popular activities occur in this town side by side with the historical attractions. Adventures like zip-lining tours, flying fox adventures, and camel rides are very famous here. Performing these activities helps the employees to take a break from their monotonous work and get in touch with one another as these adventures help build personal skills.
The best corporate retreats of Neemrana:
Neemrana Fort Palace – The main attraction here is the Neemrana Fort which was built in the 15th century and now this fort is converted into a luxurious heritage hotel. This hotel provides unmatchable hospitality to its guests. Multiple venues are available, including conference rooms, outdoor gardens, and terraces with breathtaking views. The architecture and atmosphere of the fort offer a distinctive setting for business gatherings.
Ramada Neemrana – Ramada Neemrana is a modern hotel with cutting-edge conference space, offering cosy lodging and eating choices to its guests. This hotel is also appropriate for business meetings and conventions. The hotel has a variety of interior conference rooms, banquet halls, and large outside setting space for big gatherings.
The Grand Hira Resort Neemrana – This resort includes meeting spaces, spa facilities, and a tranquil setting for corporate gatherings. Outdoor parties can also take place in the lovely garden and poolside areas. Using the hotel's extensive facilities, which include audio-visual equipment and high-speed internet access, the staff assist in organising an exclusive event or conference to a huge success.
Leh Ladakh
Leh is one of the most enjoyable and secure destinations to travel in Ladakh. The high mountains, the glacial lakes, and the charming surroundings offer spectacular views of nature.
Leh is also said to be the Biker's Paradise. Nowadays corporate teammates go to this place to build a relationship of trust and brotherhood among them. Leh Ladakh is considered one of the best destinations for corporate trips in North India as it offers adventurous activities like Trekking. With the team members, it can be a really good adventure to explore as it makes them physically fit and helps make memories here that no one will ever forget. Leh always adds pleasure to rejuvenate a corporate holiday.
The best corporate retreats of Leh Ladakh:
The Grand Dragon Ladakh – This luxurious hotel in Leh has conference facilities and meeting spaces that are well-equipped. It is conveniently located and offers cosy lodging for corporate groups. The hotel has spacious meeting rooms with modern amenities, rooms such as a pre-function room, a personal boardroom, a garden,and an amphitheater, where events can be hosted in front of breathtaking Stok mountains. Along with this Ladakh's vast, empty moonscape is ideal for other team-building activities. Activities like trekking, cycling, camel safaris, camping, and spending the night beside beautiful lakes.
The Zen Ladakh – A small to medium-sized hotel to host small business conferences, meetings, and private events. This hotel has all the meeting facilities and a calm atmosphere to hold events. Exclusive Boardroom is the ideal choice for meetings, intensive training sessions, and small seminars. This location is also special as it has a VVIP waiting lounge to conduct VVIP meetings. The unique Community cum Conference Hall is an excellent option for small seminars, conferences, and business meets.
Leh-Ladakh Sarai – This eco-friendly resort offers a tranquil setting for business getaways. It is dedicated to sustainability and provides meeting places. There are several mountain riding options in Ladakh Sarai ranging from a short, simple ride to longer, mountain bike excursions.
Udaipur, Rajasthan
Udaipur is famous for its lavish royal life, monuments, palaces, courtyards, and gardens. It was formerly known as the capital of Mewar Kingdom. The beautiful, royal, and lavish resorts are unmatchable to others in the sense of providing hospitality. Udaipur can be said to be one of the best places for office outings in North India as the high-end hotels here allow their guests to hold their corporate conferences and official meetings as well as to workout at their yoga and meditation lounges.
The courtyards, gardens, halls, and big spaces here are the ideal spots for the corporate teams to organise their yearly vacations or even important conferences with the clients. Play sessions are organized here for the teams which includes indoor games, treasure hunt games, and other fun activities. If one's corporate life is becoming way more hectic and boring then Udaipur is the needed therapy to gain the energy.
The best corporate retreats of Udaipur:
The Oberoi Udaivilas – An opulent resort with first-rate meeting space and breathtaking views of Lake Pichola. It offers a royal setting for business meetings, events, and team-building activities. This hotel can host corporate events, including conferences, seminars, business dinners, product launches, and several other events. Their trustworthy, effective, perceptive team is quite experienced in organising events to the highest standards and managing each area of the business.
The Lalit Laxmi Vilas Palace – This Palace provides meeting rooms with cutting-edge facilities and surrounds Fateh Sagar Lake. It is a distinct option thanks to its heritage ambiance and picturesque vistas. This consists of three types of sitting areas which include Amrapali Lawn, Aangan, and Aangan Hall.
Fateh Garh – On top of a hill, Fateh Garh provides meeting space and panoramic views of the surrounding landscape. Both its eco-friendly practises and Rajasthani architecture are well-known and hence provide beautiful venues and banqueting services for holding events. The conference hall in this resort has luxurious furnishings and modern conveniences including projectors, internet connectivity, and audio-visual equipment.
Manali, Himachal Pradesh
Manali is one of the hilly regions of Northern Himachal Pradesh state. As the title suggests this place is famous for the Beas river. The dense mist, flowing river, and wooded surroundings add to the beauty of this paradise. Adventurous sports are experienced here which can be enjoyed by the travellers and thereby corporate companies are always looking forward to increasing team-building training in the corporate world, and adventure sports and thrilling activities here will help the corporate companies achieve this. Experience thrilling sports such as trekking, rafting, skiing, mountain climbing, and mountain biking. These sports are a blend of emotions like thrill, anticipation, and fear.
Resorts and hotels here organize some fun activities for their guests like jungle hikes to the riverfront, pottery making, and several water activities too. Camping near the riverfronts, bonfires at night, trying new local cuisines, playing some indoor games, and attending yoga and meditation classes make Manali one of the top places for corporate team outings.
The best corporate retreats of Manali:
Span Resort & Spa – This opulent resort is surrounded by beautiful greenery and the River Beas, where it provides cutting-edge convention facilities. It serves as a serene retreat for corporate gatherings. Their conference centre provides a cosy, welcoming setting that is perfect for any event, whether it be work or play. These spaces are an ideal choice for executive conferences, seminars, or sales meetings since they include the newest audio-visual amenities.
Snow Valley Resorts – This hotel provides conference spaces and convenient access to the town's attractions and is located close to Manali Mall Road. It offers urban convenience and is excellent for corporate occasions. They look forward to offering the nicest and most elegantly decorated conference rooms in Manali, with the ability to host 150 guests, in a perfect setting for your corporate meetings, conferences, and gatherings.
The Manali Inn – This hotel offers meeting rooms with all hospitality facilities to accommodate delegates. It provides the perfect setting for conferences, meetings, and other gatherings. The hotel offers an ideal location for successful and memorable business events with its combination of contemporary conveniences, stunning views, and friendly hospitality. By staying here one can also go for adventurous activities in the mountains.
It is therefore seen that corporate outings with teammates in North India provide a wide variety of locations and corporate retreat activities that will help the corporate team members to build interest and team-building requirements. In one line we can say that North India has it all, whether the corporate world is looking for adventures in the mountains, historic and cultural sightseeings in ancient cities, or tranquility by the lakes to free oneself from the daily stress of corporate life.
It is very important to plan and organize the trips and these locations will help the companies to reach their desired goals. These locations will re-energize the teammates, enhance the relationships, and increase productivity with the proper blend of work and play.
Other Interesting Blogs to Read
Best Hill Stations in Uttarakhand for Family Vacation, Corporate Trips, Nature Lovers & Adventure
Top Places for Corporate Outing in India
Step by Step Guide to Plan a Lavish Incentive Trip for Corporate Employees
Like & Follow our social media accounts at Twitter, Facebook, Linkedin & Instagram for getting the latest updates & offers on holiday packages.
Disclaimer: We do not take credit for some of the licenced paid images used in our blogs, whether from Google Images, Fotolia & Shutterstock. All such images are the copyrights of their respective owners and we try to provide credit for them wherever we can. If, however, any copyright image has been used on our blog, the concerned person can either mail us directly to remove the image or provide credit to whomsoever the image may belong to.
Frequently Asked Questions
What are the top destinations in North India for corporate outings?
Top destinations in North India for corporate outings include Rishikesh, Jim Corbett National Park, Ranthambore National Park, Jaipur, Dharamshala, Agra, Neemrana, Leh Ladakh, Udaipur, and Manali. Each of these places offers a unique blend of history, culture, breathtaking beauty, and wildlife.