How an Edreams prime sunscription might help you save money on your next trip
Octanews
October 3, 2023
71

12 minutes read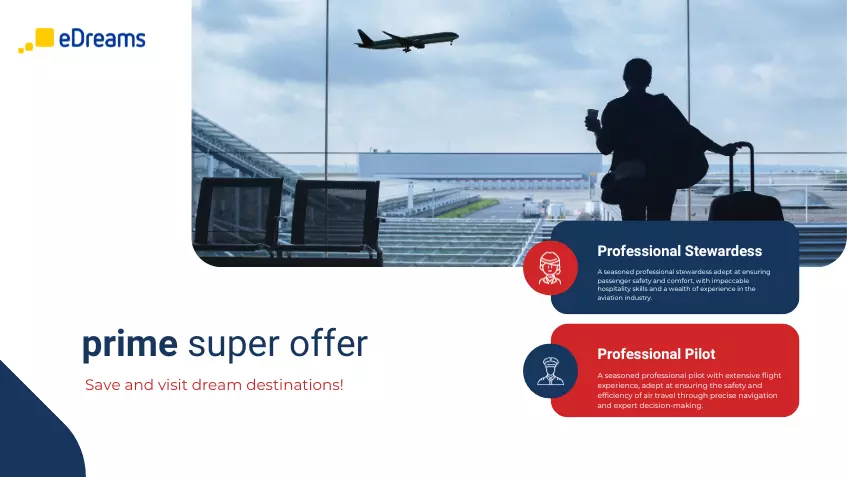 Do you want to discover if an eDreams Prime subscription is worthwhile? Continue reading for a detailed explanation of eDreams Prime and how much money you'll save based on the sort of travel you conduct.
As we begin to emerge from the chaos of the last few years, one of the most pressing concerns among travellers is "will travel become more expensive?"
It's difficult to know what to do; on the one side, airlines are attempting to recuperate their losses, while millions of young people are yearning to return to their homes.
But one thing is certain: every tourist will look everywhere for the greatest value, and the airlines and travel agents who provide those discounts will come out on top.
If you want to get the greatest rates on fantastic places to stay across the world and get cheap flights across many airlines, eDreams Prime could be the ideal membership for you.
Here's all you need to know about eDreams Prime and why it's worth considering for your next trip.
eDreams is a European online travel agency that sells flights, hotels, car rentals, and other services in a variety of countries across the world, including the Italy, the United Kingdom, the United States, Australia, and New Zealand.
They provide customer care before, during, and after your trip in addition to being an online booking platform.
What exactly is eDreams Prime?
eDreams Prime is an annual travel membership that provides significant savings on flights, accommodations, car rentals, and other services for any trip booked while subscribing.
A lot of airlines have similar membership structures, but with eDreams Prime you can book reduced tickets on all airlines as well as save money on other aspects of your vacation, and you get unlimited access to the discounts for as long as you are a member.
It's an excellent choice for explorers who want to make the most of their money while travelling.
How much does eDreams Prime cost?
The subscription cost depends on your location/currency, for example:
$46 to $59.99 for USA customers
£59.99 for UK customers
From €54.99 to €64.99 for European customers
There's also a free 30 day trial for all new customers so you can try it out before paying for the year.
What are the advantages of using eDreams Prime?
There are several advantages to purchasing an annual subscription to eDreams Prime, including:
All flights are discounted, generally by 10%.
Accommodation might be discounted by up to 50%.
Car rental discounts
24/7 VIP customer service hotline access
Discounts are available to all members of your travel party (up to a total of ten individuals) without the requirement for their own subscription.
You may try it out for free for 30 days before committing to a year.
Members will receive additional savings on Prime Day.
How much money can you save using eDreams Prime?
The easiest approach to see if it's worth it is to run through a couple situations from my previous travels.
Assume I wanted to go to Tirana for the weekend with my closest buddy and we required two return flights.
A short check for flights on eDreams Prime reveals that flying EasyJet at a reduced Prime price of 12 € per person, down from 30 € per passenger, is our best choice. This is a savings of 18 € per person, or 36 € in total, implying that I have already saved the cost of the annual subscription. Not terrible at all! With only one or two weekend vacations, your subscription would easily pay for itself.
Things that are important with eDreams Prime
Before purchasing your eDreams Prime subscription, there are a few things to consider.
Always double-check the pricing on the airline's official website. These are frequently more expensive, but they may also be less expensive, and you may receive additional perks such as loyalty points and greater cancellation alternatives.
The membership automatically renews, so set a reminder before the year is out to go back and see how frequently you used it/how much it saved you before deciding whether to keep it.
When you book through an OTA (online travel agency) like eDreams, you must deal with their customer care, not the airline directly, for any flight cancellations or adjustments.
What exactly is the eDreams Prime Day?
eDreams Prime Day is a massive sale that eDreams holds twice a year for a few days, providing clients exceptional savings on flights, hotels, and car rentals. The previous sale helped almost 300,000 passengers save money on their travel.
The 6th edition of eDreams Prime will take place from 2 October 2023 to 5 October 2023, however you may enjoy the greatest travel bargains if you download the eDreams app.
To take advantage of the promotion, you must be an eDreams Prime member, but you may sign up for a 30-day free trial while booking your journey and gain access to the bargains. It's far too simple. If you have previously been an eDreams Prime member within the last 12 months, you must log in with your eDreams Prime information or purchase a new membership when booking your flights to be eligible for the discounted pricing.
This year, eDreams Prime is giving up to 60% off airfares (unheard of!) on carriers such as Qatar Airways, Latam, Lufthansa, and others, as well as up to 40% off accommodation and up to 30% off car rental. Each of the bargains will have a limited number of tickets available, so act quickly!
They are now offering inexpensive flights from London to Copenhagen for £20.26 (down from £49.99, a 59% discount), London to New York for £229.60 (down from £327.45, a 30% discount), and London to Venice for just £11.93 (down from £30.38, a 60% discount). You may browse the current discounts available on the eDreams Prime Day website, or search for your next trip and then click the 'Prime Day discounts' box to filter the reduced flights.
Don't worry if you missed the inaugural 2023 eDreams Prime Day; simply sign up for the eDreams email to be the first to know about the next offer.
The final verdict on eDreams Prime
The eDreams Prime yearly subscription is great for anybody who enjoys travelling, especially those who travel in a group or with their family.
If you're going alone or with one other person, the membership will pay for itself in around two short-haul journeys. With 4 or more people, you may be very certain that it will only take one trip!
You may save even more money on your next vacation if you keep an eye out for Prime Day offers.
The most important thing to know with this sort of membership is to remember that you have it! It's easy to pay the yearly fee and then forget about the savings, so bookmark the eDreams website for fast access the next time you plan an excursion.
I hope my eDreams Prime review has helped you save money for your next vacation! I'd love to hear if you got a good price; please leave a comment with your vacation plans and how much money you saved.