Review of Hostinger 2023: Sharing Our Experience, Upsides, Downsides & More…
Octanews
November 9, 2023
35

26 minutes read
Summary
Hostinger, A reputable web hosting company known for cheap hosting services. Based on 3+ years of experience, I found Hostinger a reliable & trustworthy high performance web hosting solution. It comes with a free domain, 99.99% uptime guarantee, 1-100 website plans, daily backups, 24*7 Live chat support, and free migration.
Hostinger is one of the popular web hosts that was established in 2004 and hosts over 29 million websites across 178 countries.
Hostinger offers a wide range of web hosting solutions including Shared hosting, VPS hosting, cloud hosting, WordPress hosting, VPS hosting, and much more at affordable prices.
I'll be reviewing important parameters of Hostinger including Performance, Hosting Plans, User Interface, Customer Support, etc and finally highlighting the pros and cons.
Is Hostinger a good web host choice for 2023? Let's find out in this detailed Hostinger.
Hostinger Review 2023
Let's start the Hostinger review with its upsides & downsides.
| Hostinger Overview | Details |
| --- | --- |
| Pricing | Starts from ₹62.10/mo OR $1.79/mo |
| Uptime | 99.987% (Last 30 days) |
| Speed Score | 98 |
| Refund Policy | 30 Days |
| Payment Methods | PayPal, Credit Cards, Debit Cards, UPI Payments |
| Migration | Free |
| Customer Support | Live Chat, Ticket Support, Knowledge Base, YouTube Tutorials |
| Server Locations | Netherlands, Lithuania, United Kingdom, Singapore, India, USA & Brazi |
| Backups & Restoration | Free Weekly to Daily Backups |
| Hosting Plans | Shared, WordPress, VPS, Cloud & Minecraft |
| Domain Registration | Possible |
| Security Options | Free SSL, Malware Scanner, Free Backups, 2FA, DDoS Protection, Website Firewall |
Hostinger: The Upsides and Downsides
I have 2 active sites running on Hostinger web hosting. Compiling my 3+ years of experience with Hostinger, these are the Hostinger Pros and Cons (Upsides & Downsides) you should know:
Hostinger Pros (Upsides):
High Performance Even in Low End Plans:
The performance analysis of a web host server is like checking the engine of a car before you buy it. You want to make sure it runs smoothly, right?
Everyone knows that Hostinger is the most affordable web hosting service in the world. And for this very reason, there is often doubt about its performance.
Well, today we will see the performance results of Hostinger's two most popular plans: Single Shared and Premium Shared.
And finally, I will tell you which data center (Server location) from Hostinger is the best.
How did we test Hostinger's performance?
With the help of website performance testing tools, I have experimented with 4 types of tests: Speed Test, Server Response Time Test, Uptime Test, and Stress Test on the following 2 websites running on 2 different Hostinger plans.
Website 1: Premium Shared (WordPress Starter) plan, India (Asia) server
Website 2: – Single Shared (Cheapest Plan), USA server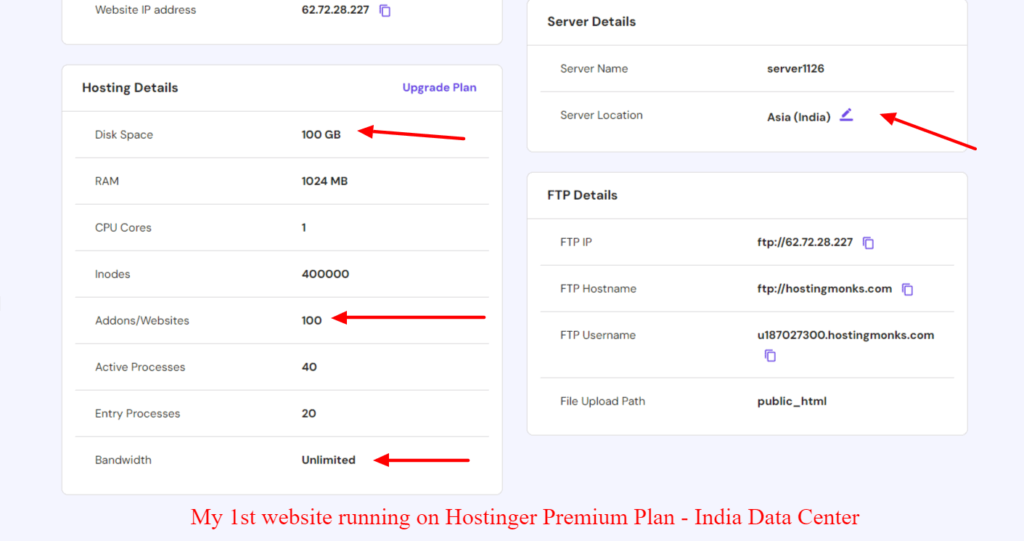 Speed Test: (Using GTMetrix tool)
Research indicates that the ideal website loading speed should be between 0-4 seconds. Can Hostinger servers meet this benchmark? Let's explore!
Scenario 1: LiteSpeed – Enabled, CDN – Disabled
| Premium Plan (Speed Score, Load Time) | Single Plan (Speed Score, Load Time) |
| --- | --- |
| India – 90%, 1.8s | India – 63%, 5.9s |
| China – 99%, 1.4s | China – 77%, 4.4s |
| UK – 99%, 1.2s | UK – 85%, 3.7s |
| USA – 91%, 2.3s | USA – 91%, 2.4s |
| Australia – 93%, 1.8s | Australia – 79%, 4.0s |
| Brazil – 90%, 3.2s | Brazil – 75%, 4.2s |
| Canada – 90% 2.4s | Canada – 93% 2.1s |
| Average: 2.014 seconds | Average: 3.814 seconds |


Scenario 2: LiteSpeed – Disabled, CDN – Disabled
| Premium Plan (Speed Score, Load Time) | Single Plan (Speed Score, Load Time) |
| --- | --- |
| India – 68%, 5.6s | India – 60%, 5.3s |
| China – 93%, 3.2s | China – 72%, 4.4s |
| UK – 89%, 3.3 s | UK – 73%, 5.1s |
| USA – 82%, 5.1s | USA – 65%, 5.7s |
| Australia – 91%, 4.5s | Australia – 75%, 5.4s |
| Brazil – 76%, 7.3s | Brazil – 71%, 4.3s |
| Canada – 80% 5.4s | Canada – 87% 4.5s |
Words on Speed Test Score:
According to GTMetrix reports, Hostinger servers achieved an A grade on average with caching enabled and a B grade with caching disabled.
Turning on LiteSpeed plugin or caching made a big difference in the speed scores. With caching on, the Hostinger premium plan loads in a minimum of 1.2 seconds, and the Hostinger single plan takes 2.1 seconds.
It's clear that loading speed is slower in locations far from the server's data center. Using a CDN can speed things up in those distant places.
The Hostinger single plan has limited resources, like less RAM and bandwidth, which makes it load quite slowly. In comparison, the premium plan is better, and even when caching is turned off, it doesn't slow down as much.
The top speed score for the premium plan is 99%, and for the single plan, it's 93%.
The lowest speed score for the premium plan is 68%, and for the single plan, it's 60%.
Server Response Time [TTFB] Test:
We tested the Server Response Time using two websites located on different Hostinger servers. One website is hosted in the Asia (India) data center, and the other is in the USA data center. The tool we have used for this assessment is the Sucuri Load Tester.
Server response time, which measures how quickly a server responds to a request, plays a crucial role in ensuring fast and efficient delivery of web content, thus enhancing the user experience. It is also called TTFB.
We'll now see how quickly Hostinger's servers respond to 10-15 simultaneous requests from various global locations.
| Hostinger India Server TTFB | Hostinger USA Server TTFB |
| --- | --- |
| USA, New York – 0.831s | USA, New York – 0.783s |
| Canada – 1.454s | Canada – 1.101s |
| UK, London – 0.517s | UK, London – 1.032s |
| France, Paris – 0.680s | France, Paris – 0.849s |
| Japan, Tokyo – 0.560s | Japan, Tokyo – 0.833s |
| NL, Amsterdam – 0.529s | NL, Amsterdam – 0.789s |
| Australia, Sydney – 0.757s | Australia, Sydney – 1.492s |
| Brazil – 1.92s | Brazil – 0.99s |
| Singapore – 0.443s | Singapore – 1.17s |
| Average: 0.865s | Average: 1.041s |
Indian servers responded slowly in Canada, Brazil, and the USA, while USA servers were slower in the UK, Australia, and Singapore. In terms of average response time, Hostinger's India servers perform well. For audiences in the USA or nearby countries like Canada, the US-based data centers are a effective choice.
Uptime Monitoring Test:
About 4 months ago, we subscribed to Uptime Robot, which checks the uptime of our Hostinger site servers every 60 seconds. Hostinger provides a 99.9% uptime guarantee. Is this accurate? Let's check it out…
| Hostinger India Server Uptime (2023) | Hostinger USA Server Uptime (2023) |
| --- | --- |
| October: 99.921% | October: 99.997 |
| September: 99.943% | September: 99.913% |
| August: 99.985% | August: 99.961% |
| July: 99.994% | July: 99.994% |
| June: 99.934% | June: 99.977% |
The reports are clear. Hostinger has lived up to its promise. They offered a 99.9% uptime guarantee, and our reports reflect the same.
In the last 4 months, we experienced downtime on just one day: October 25, 2023, for 34 minutes. We will keep updating this Uptime table in a real time.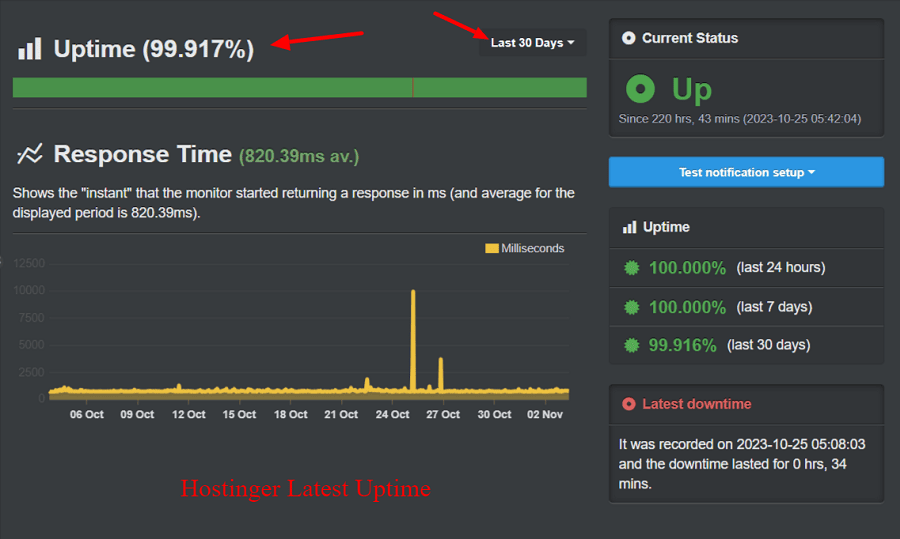 Stress Load Test:
Website Stress test is nothing, but a performance test of a site in a situation of a sudden traffic spike. We used a load tester app to send a lot of virtual traffic to both of our Hostinger websites. 
Now, let's see what the results are:
Within 5 minutes, a total of 32,346 requests were sent to Hostinger's servers as part of the load test, with the heaviest load occurring during the 3-minute interval.
Hostinger's performance remained remarkable even during traffic spikes. The average response time was recorded at just 2.30 seconds, which is truly impressive.
No errors were observed. Often, when such a heavy load is placed on a server at once, it can lead to server crashes and display a "503 Service Unavailable" error, but nothing of the sort happened here.
After seeing the response time I am sure, Hostinger won't disappoint us in any situation. The servers never got down during the test and this is proof of the efficiency.
Evaluation of Hostinger's Performance (Verdict):
In a nutshell, based on the test results, we claim that Hostinger's low-end plans are capable of delivering good performance for websites with budget constraints, while expecting decent performance from their web hosting servers.
The test results also reveal that the single plan offered by Hostinger doesn't perform well. If you aim for a high score in core web vitals, website speed, and server response time, you should consider at least a premium plan or higher. For small to medium-scale websites, the premium plan is cost-effective. For larger traffic websites, you can opt for business servers for added performance.
One key takeaway is that enabling the LiteSpeed performance optimization plugin, as recommended by Hostinger with default settings, can yield a 20-30% improvement in overall performance.
Let's talk numbers. Hostinger's site has an average loading time of 2.014 seconds, and the server response time clocks in at 0.865 seconds. That's a solid score that plays nice with Google's rankings. Plus, when we put Hostinger against competitors like GoDaddy (2.94 seconds) and Bluehost (more than 3 seconds), Hostinger's average loading time surpasses them significantly.
Hostinger's Asia data centers are relatively faster compared to those in the USA.
The uptime achieved was 99.9%, as claimed by Hostinger.
Even the stress test was successful, with 32,346 requests sent within 5 minutes, without any HTTP failure errors.
What are the key factors contributing to Hostinger's impressive performance?
Hostinger's impressive performance can be attributed to several key factors. Enabling the LiteSpeed plugin and proper caching significantly improves loading speed. Hostinger's data centers in different regions offer fast response times, and configuring a Content Delivery Network (CDN) can further enhance performance, especially in distant locations. The choice of hosting plan also plays a crucial role, with premium plans outperforming the single plan in terms of speed and overall performance.
Does Hostinger comply with the 99.9% uptime guarantee?
Yes, Hostinger lives up to its 99.9% uptime guarantee. Over the past 4 months, the uptime records for Hostinger's servers have consistently exceeded this guarantee.
Can Hostinger deliver good performance without enabling LiteSpeed?
No. Hostinger's performance sees a notable difference when LiteSpeed is enabled compared to when it is disabled.